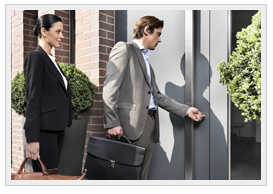 Our access control system is designed to work in different premises. If you are searching for a security system that can provide the protection from the access of the secured areas or resources then the Face Recognition Solution's access control system is the perfect solution. Since access controlling mechanism is a day to day phenomenon and therefore protection of the various resources is a vital act.

Basic Principle for Access Control System :
Our biometric solution access control system is based on face recognition technology. It thus eliminates the usage of the primitive security methods of implying security guards or maintaining a heap of papers containing the access details. This electronic security system captures the facial details of the individual and saves the data electronically into the database of the computer. When the individual revisits the premise for the next time, the face recognition system again captures the facial details and performs a match with the already stored patterns. When it finds a match, it gives the permission for access right. By this our access control system checks the access of the individuals to certain restricted areas or resources.
System Features:
The unique features that it possesses are :
It the simplest method for obtaining high security.
It is more effective than the primitive methods.
It is based on no human touch technology. Therefore it removes buddy punching method of security.
It supports easy installation method.
This biometric solution needs a very easy and simple maintenance.
Our biometric solution is based on 'no human touch' technology and is workable in both indoor and outdoor premises. The involvement of the electronic storage facility enhances the system for storing large amount of data and also reduces the data loss. However, comprising of all these features it achieves effectiveness at various premises in the field of security.
Tell Us Your Needs We Will Respond Soon !
INQUIRY NOW !

WHAT WE OFFER ?
PRIMARY PRODUCT
NAVIGATION LINKS
PRIMARY CONTACTS
If you have any questions or need any additional information we will be happy to hear from you. Your request will be processed within less than 24 hours, and one of our representative will certainly get back to you.
JUSTLOOK - FACE RECOGNITION SYSTEM
ADITECH INFOTECH PVT LTD
Ahmedabad, Gujarat

Call : 91-9227070102, 9327049217
COPYRIGHT
Feel free to get to know us view our work read the latest or simply SAY HELLO !